G. Mark Hardy - Professional Keynote Speaker
MBA, CISSP, CISM, CISA
In the news: G. Mark quoted in Forbes.
Eli Boufis' article, "Here's What Investors Need To Know About Cryptocurrency," written on May 11, 2019, contains a quote from G. Mark Hardy.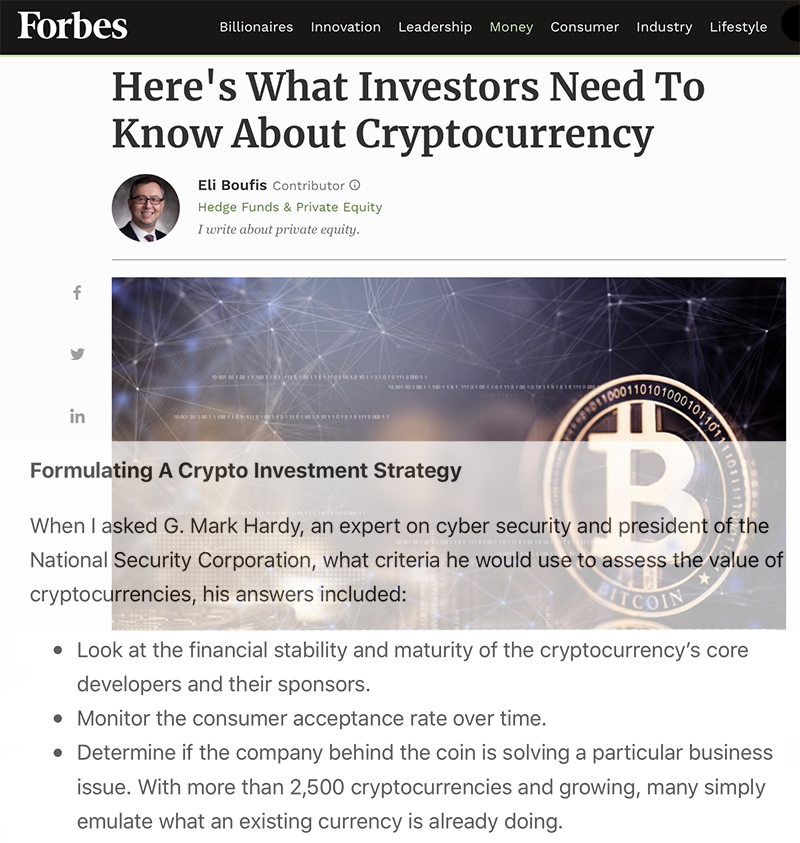 In January 2019, G. Mark Hardy was quoted in another Forbes article, "Profit, Peril And The Internet Of Things."
Why Choose G. Mark Hardy for Your Event?
G. Mark is more than an expert on cyber security and encryption. He uses his business background to close the gap between security issues and ROI like no other professional. He's an internationally recognized expert who has spoken at more than 250 events world-wide.
G. Mark has an entertaining and informative style, generating many repeat clients, such as ISACA where he's presented annual training for 14 years.
A graduate of Northwestern University, he holds a BS in Computer Science, a BA in Mathematics, a Masters in Business Administration, a Masters in Strategic Studies, and holds the GSLC, CISSP, CISM and CISA certifications.
A retired U.S. Navy Captain, he was privileged to serve in command nine times, including responsibility for leadership training for 70,000 Sailors. He also served as wartime Director, Joint Operations Center for US Pacific Command, and Assistant Director of Technology and Information Management for Naval Logistics in the Pentagon, with responsibility for INFOSEC, Public Key Infrastructure, and Internet security. Captain Hardy was awarded the Defense Superior Service Medal, the Legion of Merit, five Meritorious Service Medals, and 24 other medals and decorations.
G. Mark serves on the Advisory Board of CyberWATCH, an Information Assurance/Information Security Advanced Technology Education Center of the National Science Foundation.
Developer of the "Total Accountability Model for Security," Mr. Hardy was hand-picked to address the top executives of Fortune 1000 firms across the country in small group settings on implementing an enterprise-wide accountability approach to security.
Clients
The Marketing team at Cisco knows they can count on G. Mark Hardy to craft a message that resonates with Technologists and Executives. That's why Cisco called on him repeatedly to headline a cross-country tour addressing both technical and business issues related to protecting enterprise assets. Other clients include ISACA, Procter & Gamble, General Electric, and IBM.
Topics
G. Mark's most requested topics include:
Layer 8: Understanding Politics in Cyber Security
Disruptive Tactics for Disrupting Terrorist Financial Operations
Everybody's Been Hacked: Get Over It and Get On With It!
Cyber Leadership: How to Win the Battle AND the War
Courseware
Recognized by the industry as thought leader, G. Mark has been called on many times to consult on and author courseware.